If you are an e-commerce business, you need to level up your sales game. With technology advancing at rocket speed, you need to adapt to different products and tools to give your customers an experience of a lifetime. This experience will let them decide if they wish to be a one-time customer of your business or a loyal one. 
But, as an e-commerce business owner, the most common problem that any business faces is cart abandonment. Baymard institute says that 69.57% of the customers who shop online abandon their carts. Customers visit your website and even to the extent of adding to the cart. But what happens next? 70% of these people don't check out!
Why? Reasons can be plenty. But, the most common problem that we can identify is a distraction. People these days get distracted very easily. Let's understand why this is happening. 
Have you ever read or heard about Goldfish memory? If not, here's what it means. Goldfishes have a terrible reputation for their memory. They seem to hold an attention span of 9 seconds. Today, humans hold an attention span of 5-8 seconds, less than a Goldfish!
Facts stated, here's where businesses need marketing tools to help them bridge this attention gap between them and their customers. How do you make this happen? The answer is straightforward – abandoned cart recovery plugin. 
The solution has always been right in front of our eyes. A simple "reminder" should be a game changer if the distraction is accurate. It is essential to assume that if a customer added something to the cart, they had an 80% of intention of actually buying it. We play on this assumption. 
So, how does this exactly work?
In this article, we help you break down the psychology of a buyer and how abandoned cart plugins can mend this gap between accurate time purchase and cart abandonment. Furthermore, we will also give you 11+ free abandoned cart recovery plugin solutions in 2022 that will help your business thrive in today's market. Let's start discovering!
What is Cart Abandonment?
In simple terms, cart abandonment happens when a customer selects an item they wish to purchase from your website, adds them to the cart, and leaves. The "purchase" never happens. They leave!
It is a ubiquitous experience for e-commerce website owners. However, the amount of daily sales that business owners lose is humongous. Shopify says that e-commerce businesses lose close to $18 billion in revenue annually. Now that's money. When the reason behind such a high revenue loss is cart abandonment, it's a problem that needs to be fixed. 
But how does that happen? 
Why do people abandon their carts in the first place?
Why Do Customers Abandon Carts?
Let's begin by understanding basic human instincts. An average human has 6000 thoughts per day. Jumping from one chore to another, it is highly possible for people to forget about things easily – plus we just discussed goldfish memory – hence proved. 
The most crucial factor is ordinary web navigation. Since consumers often look around before making a purchase, it's reasonable to assume that some visitors will leave before making a purchase decision on their first visit. 
Baymard conducted a survey that delves deeper into the underlying causes of the shopping cart and page abandonment. Customers who have started the checkout process by adding products to their carts but have not completed the transaction are included in our abandoned cart statistics.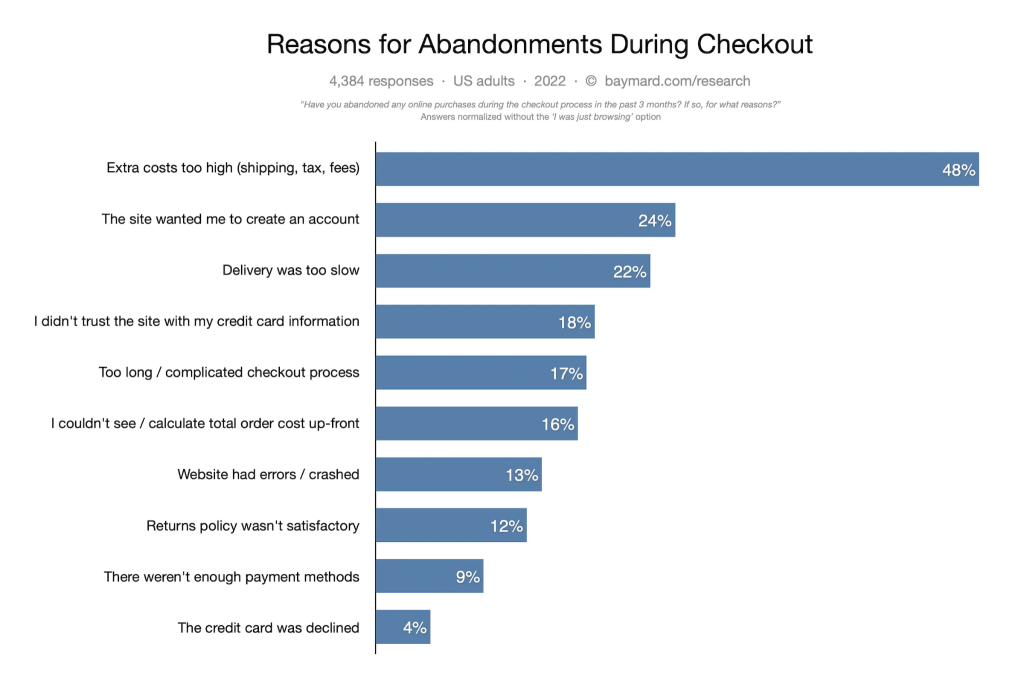 A small percentage of them might have made it to the register before giving up and leaving. Brands should also remember that their abandonment metrics will change due to the increased traffic and sales during the busiest shopping months of the year. 
Now that we understand online shoppers' reasons and typical buying behavior, it's time to fix this with a solution – an abandoned cart recovery plugin. 
4 Methods to Recover Abandoned Carts 
    1. Catch Your Customers Before they Leave
First and foremost, why not try to stop a departing customer with a last-ditch effort to capture their attention? You may use an exit intent message to reach out to people who have abandoned their carts. Messages, in our opinion, are the quickest and most effective approach to getting back abandoned carts and are a wonderful place to start when trying to lower abandonment rates. 
To boost your message's efficacy, strive to make your message lighthearted and amusing while simultaneously communicating a sense of urgency. You can increase the message's relevance by showing photos of the items in the customer's cart and providing a discount or free shipping.
    2. Segment & Conquer 
The success of an SMS marketing campaign is related to the usefulness of the content sent out. Subscribers are more likely to perform the required action when they receive tailored messages. This also applies to the cart recovery messages you send out. 
Most businesses mistakenly believe that sending out coupons to every customer who abandons a shopping cart via SMS will bring them back. We can't let that happen. Why? Simply locating the abandoned carts won't do much good until you do anything about the people who left them. 
The question now is how to achieve this goal. 
You can slice and dice your shopping cart abandoners with segmentation to send them tailored messages based on where they are in the customer lifecycle. Why a returning customer doesn't finish order isn't always the same as why a first-time customer does. The specific cause may vary depending on the location, the type of business, and the geographical area. 
You may deliver more personalized communications to your abandoners if you divide them into several groups based on factors such as the number of times they've abandoned a purchase or whether or not they're returning customers. 
Segmentation is the sword that can assist you in winning the war of cart recovery.
   3. Responsive Messages 
You may make a fantastic message by using appealing photographs of your products, well-written writing, an attractive incentive, and a clear call to action. Your conversion rate won't rise unless it's compatible with desktops, laptops, tablets, and mobile phones. 
Customers want a smooth experience, and in a world where more and more people read their email on the go, it's essential that you can adapt quickly to their changing needs. 
How well your SMS messages work on these devices will significantly impact how many customers you close. 
  4. Series of Messages – A Campaign 
While sending just one cart recovery message can increase conversions, the best results come from sending one or two more messages. 
We advise sending three texts at regular intervals. Customers who have abandoned their carts may receive a kind reminder email within an hour. 
If the first message does not encourage clients to complete the transaction, then a second message could be triggered with the intent to inspire urgency. 
And, for those consumers who still don't convert, a third and final message might be triggered to entice them with an incentive to complete their purchase. 
Follow-up communications can also be triggered by product inventory levels in the cart. For example, if the number of units of the product in inventory reduces below a given quantity, that could trigger a message.
What is an Abandoned Cart Recovery Plugin?
An add-on for WooCommerce, WooCommerce Abandoned Cart Recovery allows you to retrieve abandoned shopping carts and complete abandoned orders. When a buyer places an item in their shopping basket but then abandons their attempt to purchase, the shopping cart will be recorded as left after the predetermined amount of time has passed. 
The consumer will be prompted to finish their purchase via emails or Facebook messages sent by WooCommerce Abandoned Cart Recovery. On that note, let's discover the best free WooCommerce abandoned cart recovery plugins of 2022. 
Watch Out for the 11 Best Free WooCommerce Abandoned Cart Plugins
Cartbox is the first and only WhatsApp marketing software connected to WhatsApp Cloud API. If a customer abandons their shopping cart on your WooCommerce store, the Cartbox WooCommerce cart Abandoned recovery plugin will send them a WhatsApp message to remind them to finish their purchase. Best Time To Send Abandoned Cart Notification.
Customers who were about to pay but were interrupted by factors like not having a credit card on hand, a slow internet connection, or a knock at the door can be converted into paying customers with the help of this plugin, significantly increasing your revenue.
Features 
Admin order notification

Customer order notification

WhatsApp chat button

Automated messaging 

1000 complimentary messages every month

One-time payment product offer 
Plans
2. Retainful – Automated WooCoomerce Abandoned Cart Plugin 
With the help of the Retainful plugin, you may improve sales, generate referrals, and provide future purchase discounts. As a freemium plugin, Retainful doesn't cost anything to use. You can only have so many contacts in the free version; there are other limitations. There are three different paid plans available, the most affordable being "Starter," which costs $19 per month and allows you to save up to 2,000 contacts. The "Growth" plan, which costs $45 per month and allows for up to 5,000 connections, is the next logical step. Professional, the priciest plan, costs $199 a month but includes protection for up to 25,000 contacts. To clarify, these prices are on a per-location basis.
Features
Capture and retrieve abandoned carts using automated emails 

Send next-order discount coupons with follow-ups automatically. 

Incentives for customers to suggest your store or items to others (paid plans only) 

Email editor with drag and drop 

Send an unlimited number of emails, such as follow-ups, win-backs, thank-you notes, and so on. 

Premium WooCommerce add-on with features that notify customers when they leave your business that they have things in their cart (paid plans only) 

Mailchimp, Hubspot, ActiveCampaign, ConvertKit, MailerLite, and Sendinblue are all supported. 

Support 

14-day risk-free trial
3. WooCommerce Recover Abandoned Cart 
WooCommerce Recover Abandoned Cart is a Code Canyon-exclusive premium plugin. It constantly monitors consumers' carts and automatically emails reminders to individuals who have abandoned their cart without completing a purchase after a predetermined time. 
Features
Monitor and record both registered and guest users' carts. 

It applies to both simple and variable products. 

Recovery emails that are automated with a manual option 

Email templates (recovery, follow-up, etc.) with built-in coupons 

Email template click-through is tracked (for A/B testing). 

Email sends time can be set. 

Notification of retrieved carts through admin email 

WooCommerce email templates are supported. 

Phone numbers are recorded for manual follow-up. 

ready for translation 

Six months of support and updates (extendable to a year for an extra $16.50)
4. Hubspot for WooCommerce 
Hubspot for WooCommerce is much more than an abandoned cart recovery plugin, though it does offer that as a significant feature. It also aids in customer administration, email marketing, analytics, workflow automation, and other tasks. The best part is that it is entirely free. 
Features
Tracking and recovery of abandoned carts 

Synchronize new and historical shop data with HubSpot Sync to manage customers and orders more effectively, including abandoned carts. 

CRM is simple for managing customers and orders 

Email builder with drag-and-drop functionality for building responsive, tailored emails based on previous interactions. 

List segmentation is a powerful tool for tailoring messaging to each target. 

Make use of social media networks to create advertising campaigns (Facebook, Instagram, LinkedIn, Google) 

In-depth client and order reporting and analytics, including ROI tracking for advertising campaigns
5. ELEX WooCommerce Abandoned Cart Recovery 
The ELEX WooCommerce Abandoned Cart Recovery plugin was created exclusively to assist you in recovering shopping carts that have been abandoned by potential customers. It sends personalized emails at predetermined intervals to remind customers to make a transaction. 
Coupon codes can also be included in the email template to entice customers to return abandoned carts with an additional discount. It can set up conditions and rules based on many factors such as user roles, cart value, number of products, and product ID to send emails only if and only if the circumstances are met. 
Features
Automatic email triggers based on rules 

Set a deadline for when an order will be considered abandoned. 

Remove any orders that have been abandoned after a certain amount of time. 

Email templates that are unique 

Sending Discount Coupons through Email 

Email History 

Order reports in detail
6. YITH WooCommerce Recovery Abandoned Cart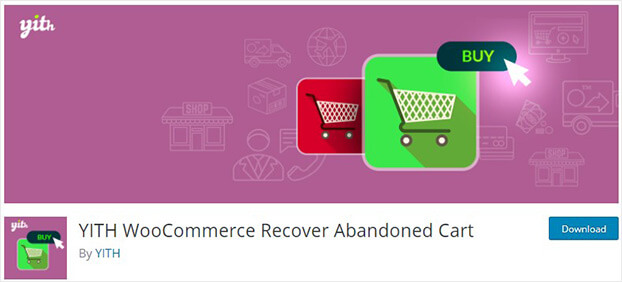 Yith WooCommerce Recover Abandoned Cart is a premium plugin that does exactly what it says on the tin: it contacts consumers who have left your store without completing their purchase and tries to persuade them to return. 
Features
After a predetermined time, the cart is tagged as abandoned. 

Abandoned carts are automatically deleted after a predefined time period. 

Users with specified WordPress roles, as well as unregistered users, can retrieve their carts. 

Automatic emails that can be customized and configured 

Include coupons in your emails. 

Emails sent to administrators informing them of recovered carts 

Advanced reports and logs, such as emails sent, abandoned cart conversions, the total number of abandoned carts, and so on. 

Reset the dashboard report button 

Support for WooCommerce Multi-Currency (WOOMC) 

WPML Compatibility 

Compatible with all other Yith plugins 

Updates and assistance 

Money-back guarantee for 30 days
7. WooCommerce Cart Abandonment Recovery Plugin 

WooCommerce Recover Abandoned Cart is a Code Canyon-exclusive premium plugin. It constantly monitors consumers' carts and automatically emails reminders to individuals who have abandoned their cart without completing a purchase after a predetermined time.
Features
Monitor and record both registered and guest users' carts. 

It applies to both simple and variable products. 

Recovery emails that are automated with a manual option 

Email templates (recovery, follow-up, etc.) with built-in coupons 

Email template click-through is tracked (for A/B testing). 

Email sends time can be set. 

Notification of retrieved carts through admin email 

WooCommerce email templates are supported. 

Phone numbers are recorded for manual follow-up. 

ready for translation 

Six months of support and updates (extendable to a year for an extra $16.50)
8. CM Commerce for WooCommerce
CM Commerce, trusted by over 20,000 entrepreneurs and eCommerce firms worldwide, combines sophisticated eCommerce marketing with user-generated content capabilities to engage your customers and develop trust in your brand. You will automatically receive up to a 30-day free CM Commerce trial, including access to all of our tools after signing up. You will be charged according to your tier if you do not terminate your free trial before it expires.
Features
Abandon cart for emails

On-brand receipts

Receipts for automation success

Visual product reviews

Newsletters
9. CartBack
CartBack is a WooCommerce plugin that connects your WooCommerce store and Facebook Messenger. Its features are designed to re-engage shoppers who abandoned their carts before checking out. 
You may use this plugin to connect your company's Facebook page to your WooCommerce store and deliver messages to customers. You can send personalized, automated, and other types of messages. In addition, built-in analytics functions will provide you with helpful information. 
The plugin costs $89 and includes six months of developer support and future updates. A newer feature allows you to use WordPress shortcodes to add a Send to Messenger button to your website.
Features
Convert abandoned cart

Facebook Messenger Remarketing 

Shortcode for button and analytics 
10. CartBoss
CartBoss is an abandoned cart text messaging system that operates entirely on autopilot and requires no additional configuration from our user. Text messages have already been generated (and A/B tested for appropriate conversions) (additionally confirmed by locals in each country). Custom SMS messages are also available. 
CartBoss integration in websites takes about 5 minutes because a WordPress plugin is already created. All required is installing the site's plugin and linking it using the API key.
Features
Send abandoned cart text messages

Offer post-purchase special offers

Pre-prepared and translated messages 

Custom text messages

Limitless sequences of text messages

Customer sender ID

Text automation

Dynamic text messages

Link shortener

Pay as you go

Unlimited online shop

GDPR Compliant 

Automatic cost optimization 

Text message results statistics 

Simple integration 
11. Push Monkey Pro
Push Monkey Pro is a plugin that provides desktop and mobile users with browser-based push notifications. Intended initially to notify readers when new content is available, this plugin's connection with WooCommerce has transformed it into a solid remarketing tool. 
When utilized for notifications in the Chrome browser, you may also use photos, making your marketing message much more appealing to customers. To get started, you must first establish a free PushMonkey account. The plugin connects your website to the PushMonkey servers, where your alerts are transmitted. 
All the features are free until a specific number of members is reached. Plans for 2,000 subscribers start at $19 per month.
Features 
Unlimited notification

Granular filtering 

Segmentation

Statistics

Custom branding 

Schedule notification

Geolocation 
How Do Abandon Cart WhatsApp Messages Impact the Digital Experience?
Even if you offer a rich, engaging e-commerce experience, one enemy costs all shop owners $18 billion in lost revenue each year: shopping cart abandonment. It's a significant problem for e-commerce business owners because $4 trillion in merchandise is expected to be abandoned in digital carts by the fiscal year 2022. 
The most powerful opponent, WhatsApp, is the most engaging channel. With over 2 billion users and over 500 million daily views, it is improbable that anyone visiting your website/app will not use WhatsApp. And, with an open rate of over 98%, they are almost sure to read the message. With its multiple features and growing popularity by the day, WhatsApp is the best bet for cart abandonment recovery.
Cartbox can be a one-stop shop for your customer engagement needs, from campaign management to real-time customer care. It aims to offer an omnichannel experience across all touchpoints using the latest free WhatsApp integration. If you'd like to learn more about how Cartbox can meet your company's needs, click here to schedule a free demo.
Conclusion
All the plugins above are created to help you recover WooCommerce abandoned carts effectively. When choosing a solution, you should also consider all the features offered by the plugins. Just sending abandoned cart emails alone will not bring in conversions. You may want to incentivize customers, define well-timed intervals and be able to send post-purchase follow-ups to keep customers engaged and nurtured. Plugins such as CartBox can help you get all these features in one neat solution.
Choose the most suitable plugin and successfully bring back your customers to stabilize your growth.